On March 16th, Ruger unexpectedly lifted the embargo on the brand new Ruger PC Charger.
What was expected to be a release for the NRA show, was quietly released to distributors today, in light of the COVID-19 spread.
Originally I had planned on having a video out on this gun to be ready for public release however it is still in editing and will be rushed soon.  Make sure you are subscribed to my channel to stay up to date on the full video.  You can find the youtube channel at www.youtube.com/Slavguns
The video is now completed and posted above! 3/18/2020
In the mean time, here are my thoughts and the specs.
The PC Charger is a pistol version of the very popular and very versatile Ruger PC Carbine.  It is initially available in 9mm and features the same barrel take-down feature we all fell in love with with the PC Carbine.  Making the firearm unique is the picatiny rail on the back where you can add the pistol brace of your choice, greatly improving the usability of the pistol.  Combined with a suppressor, you will have what I believe is the ultimate PDW for the uncertain times.
The PC Charger should be available soon with an MSRP of $799.
Below is Ruger's Press Release sent out to distributors,
We are excited to introduce the new PC ChargerTM, a 9mm pistol based on Ruger's popular PC Carbine Chassis model. The PC Charger boasts an abundance of features including a 6.5″ barrel; an integrated rear Picatinny rail that allows for mounting of picatinny-style braces; a glass-filled polymer chassis system; a flared magazine well for improved magazine reloading capabilities; and an ergonomic pistol grip with extended trigger reach.

The glass-filled polymer chassis system allows for the use of standard AR pistol grips. These models utilize a CNC-machined, hard-coat anodized aluminum handguard with Magpul® M-LOK-compatible slots at the 3, 6, and 9 o'clock positions for easy mounting of M-LOK-compatible rails and accessories. The 6 o'clock position of the handguard features a factory-installed handstop for secure support-hand placement.

These models also maintain several hallmark features of the original PC Carbine, including an easily interchangeable magazine well system that allows the pistol to accept Ruger® Security-9® and SR9® magazines, as well as Glock® double-stack magazines; a dead blow action with a custom tungsten weight that shortens bolt travel and reduces felt recoil and muzzle rise; a reversible  magazine release and charging handle to accommodate right- or left-handed use; a simple takedown mechanism to allow for quick separation of the barrel/forend assembly from the action; a durable heat-treated, chrome-moly steel bolt; a
cold hammer-forged chrome-moly steel barrel with ultra-precise rifling and a 1/2″ x 28 threaded barrel.

The PC Charger models ship with the SR-SeriesTM and Security-9 pistol magazine well installed and an additional magazine well that accepts newer Glock magazines.

The standard model features a 17-round capacity, and an additional 10-round, state compliant model also is
available.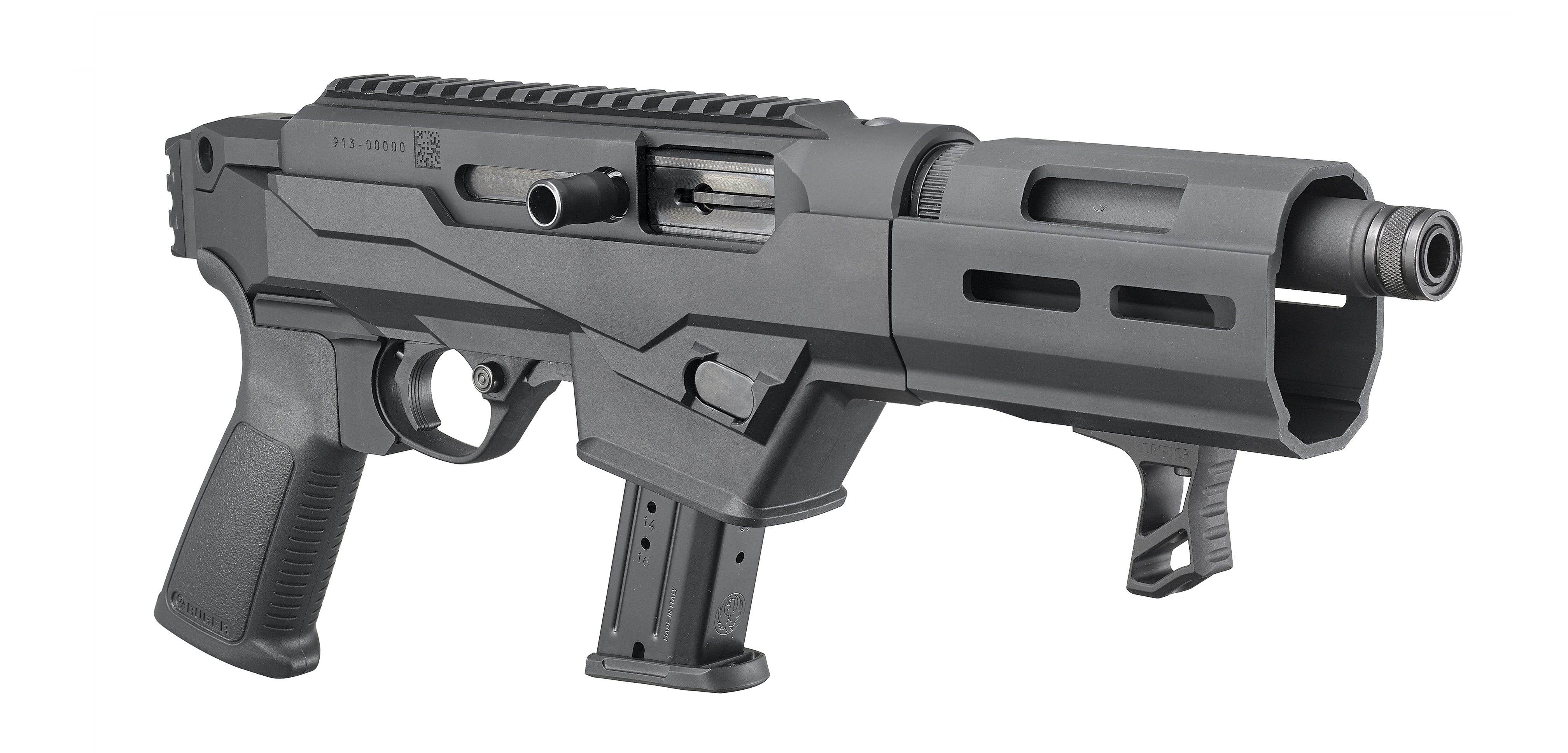 In case you missed my prior videos on the PC Carbine, you can find them here.