When Olight released the BALDR Mini, the company produced a great mid priced optic that did not skimp on features.
The BALDR Mini came with a powerful light and a choice of models offering either a Green or a Red laser.
Most recently however, Olight expanded their product offerings with the new BALDR S.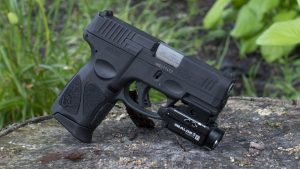 The BALDR S is a compact, pistol mounted light designed for gun owners seeking a mid priced flashlight with the additional benefit of a green laser.  Green lasers are quick to see in a variety of conditions and are my preferred choice.  The light is a bit of an improvement over the BALDR Mini, and offers 800 lumens and a maximum throw of 130 meters, more than enough for any home defense situation.
With the BALDR S, you have a choice of using either just the light, just the laser, or a combination of both light and laser.
While ordinarily I do not personally use a laser on my firearms, I am glad that it is a green laser instead of the red.  When it comes to lasers, green will be typically easier to pick up in both night and daytime conditions.
If you are looking for a compact light offering easy to live with features, the new Olight Baldr S is good choice for the newer gun owners looking to defend their home and loved ones.
You can find the Olight Baldr S at the Olight Store!