The American Success Story- Windham Weaponry WW-308 by John Rufino
In the gun community, the words "bargain" and "carbine" when buying a new rifle often lead to disappointment, poor quality and more money spent over time on upgrades to make your rifle shoot the way you want. We often find ourselves in a predicament where buying parts and assembling a modern sporting rifle or splurging and dropping the cash on a "high end", factory product would have been less invasive on our pocket books. To everyone who has made those self-correcting mistakes…or climbed that learning curve; Richard Dyke, the founder of Windham Weaponry told the industry to hold his beer.
Where It Started
In 2006, Dyke sold the Bushmaster brand to Cerberus Capital; a group of industry outsiders [rumored to be funded by George Soros and his socialist cronies] who subsequently bought a number of industry leading companies including Remington Arms Company.
In typical business fashion, the purchase of Bushmaster left hundreds of hard working "Down Easters" out of a job. Cerberus backed Mr. Dyke into a corner, requiring him to sign a non-compete clause in order to close the deal. Translation: He couldn't manufacture similar products for a period of time that would compete with Bushmaster products.
Be that as it may, Mr. Dyke's non-compete clause expired, and he was already thinking of his next move, and since he owned the land where Bushmaster was, and his rolodex of former Bushmaster employees was still full, he took to the phones, knocked on doors and solicited all of their expertise. From there, Windham Weaponry was born!
A few years later, the very first Windham Weaponry rifle was brought to market. The same work ethic that re-established the Bushmaster brand in 1976, and for 30 years; made in Windham, Maine by his loyal and longtime employees produced reasonably priced black guns with unsurpassed quality.
The Choice Was Simple
For me, a carbine chambered in .308/7.62 x 51mm had been on the horizon for quite some time. In modern market, most .308 gassers sell for over $3000 if we were not willing to compromise quality, aesthetics and functionality. We researched, and to no surprise [knowing what we do now] Windham Weaponry was the obvious choice.
Due to locational restraints and geographic residency, the hard hitting and reliable 150-178 grain bullet would be considered "excessive" by some…but for us, it's what we wanted. Of course, firearms aren't always an instance of necessity, rather than wants and what is pertinent within our 2nd amendment right!
Knowing what I wanted, and a budget in mind; Lou's Gun Shop in Raritan, NJ had a Windham WW-308 in stock. The price tag was sub $2k and after doing the paperwork with an MSRP of $1645, we carried the rifle out the door for $1550.
After compiling a list of "must haves" and "wants", the WW-308 checked out across the board, as I went down the features list. The fact that we had some periphery of the company behind the affordable and reliable bang stick helped too. If you're anything like us, when spending $1500 on anything, there is a level of remorse that comes with the purchase. Once we handled the rifle, we felt none of what we would call remorse. We had an idea of what we wanted to customize in the future but wasn't anything that we would consider urgent; mainly…optics, paint and furniture…the typical AR customization features.
What You See Is What You Get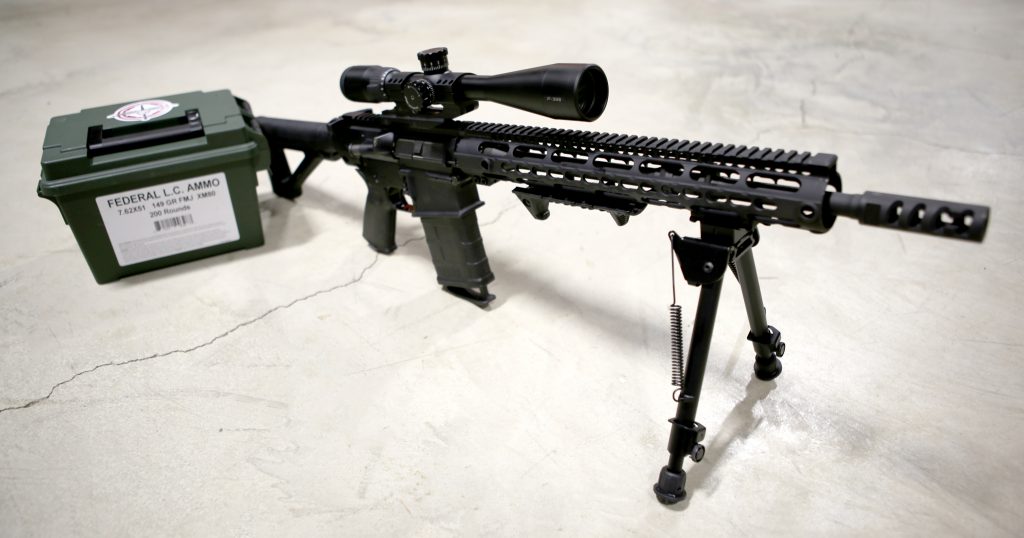 When you are at the gun shop, the WW-308 could be looked over as "just another black gun". There isn't a variety of Cerakote colors, no ambidextrous controls, or nickel or stainless bolt carriers. The WW-308 is a direct gas impingement, anodized rifle that has a Midwest Industries 15" Key-Mod hand guard to accommodate bipods and Magpul "furniture" and Hogue ergo pistol grip.
The WW-308 is manufactured in house. Living in New Jersey, and in order to be compliant with state laws, we installed a Magpul MOE Fixed stock instead of the standard 6-position carbine stock that comes from the factory.
What you will get with the WW-308 is a DPMS style, forged receiver set that will accommodate MAGPUL, LANCER or any other mil-spec magazines. Functionality is made possible by the standard controls that you find in most other AR platforms.
While at the range the WW-308 hosts a 16" chrome lined barrel that is rifled with the standard [.308] 1-10 right hand twist. Virtually the same specs as most high dollar platforms. Coming from the military, we appreciated the ample quick detach swivel points that are placed within the MI handguard. In total, there are 7 points where the end user can attach their favorite sling device.
Another feature that Windham Weaponry took account to during the design and outfitting processes; its end user experience. While having all the points to accommodate your method of carry and employment, the rifle is not a tank, a feature that many other 762's cannot relate to. The WW-308 tips the scales at 7.65 lbs unloaded. There is enough "ass" behind the gun where short to medium range shots are rigid and accurate.
Out of the box, and on the range, we would be remiss if we didn't mention the receiver fitment and present [not annoying] tolerance between them. We did not see it as a show stopper and did not appear to have any direct impact on our shot placement throughout testing. IF you are one where tight tolerance and tight fitment is an issue, Brownells has a plethora of receiver fitting devices for sale for a minimal cost.
Out of the Box
What you get when purchasing the WW-308, is both standard and unique; what you would expect with a company like Windham Weaponry. The rifle comes secured in a hard-plastic case protected by eggshell foam. This is notable because this allows the end user to spend their money on ammo or optics instead of a high dollar weapons case. Windham includes one 20-round Magpul P-Mag, and a black web sling with one QD swivel.
At The Range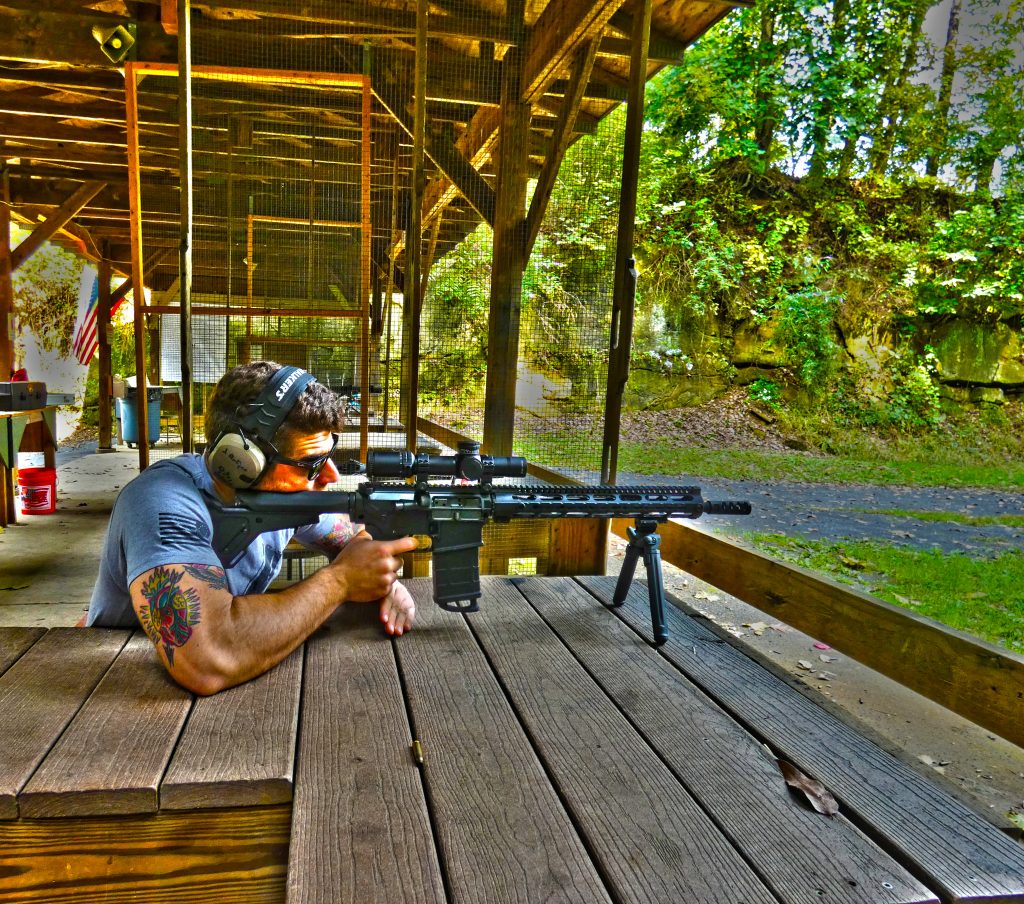 Once we finally got the WW-308 to the range, our intent was to test its accuracy and reliability; the cornerstones of gratification with firearms. Again, living where [during the winter months] shooting is hit or miss (pardon the pun), loaded up and began our quest to for the gun to put our money where Windhams mouths were.
After 18 months of ownership and 2000 rounds through the pipe, we knew there was a lot of potential in this rifle and sought out improvements in areas we felt were to be desired. Our goal was to transform our WW-308 in to an "all purpose carbine" to be patrol ready while also capable to reach out and touch something. We knew the Magpul Fixed Carbine stock wasn't adequate to reach our goal, managing recoil with our gun in raw form was a beast, anticipated recoil and inconsistent groupings we let it kick our ass. We installed the Magpul UBR for it's larger "weld surface" while also being comfortable in multiple shooting positions. We also installed a Magpul Bipod to aide a stable shooting platform when needed.
We mounted a Trijicon Accupower 1-8×28 34MM scope in Knight's Armament 34MM rings to the top of our rifle and hit the range using Federal Premium 165 Gr. Urban Tactical Tip for a 100 round rapid fire. We mixed up our rhythm in shooting slow and multiple shots in rapid succession. Throughout all of our iterations of fire, our rounds found themselves placed within a simulated 3" vital zone of our target…from 100 yards away from the muzzle. Our biggest takeaway aside from the quality and reliability [while shooting] was the fact that the WW-308 dispersed heat efficiently and didn't throw a debilitating mirage after heating up the barrel. As far as consistency, durability and comfort is concerned, the WW-308 is ahead of the curve.
We discovered our Magpul Bipod lived up to it's perception of ruggedness. Like the rifle we mounted this on, Magpul nailed high value with an over engineered piece of gear at an affordable price. The trigger on this rifle is mil-spec as mentioned but not disappointing. From the factory Windham installs a standard 6.5lb trigger which is not unreasonable, and while on the topic, totally adequate for most end user's needs. We upgraded to a Timney AR-10 Competition trigger, a 4lb single stage trigger designed specifically for AR-10 Platforms. Their curved bow design is a middle ground for traditional curved and flat bow triggers, keeping resets quick with less travel…. needless to say we're fans! From the factory or gun shop, the standard trigger is smooth and crisp, again, adequate for most end users.
We began our accuracy testing with 3 loads of factory ammunition, shooting 5 group shots of each load 3 times. Staring through the Trijicon Accupower, the WW-308 put up magnificent results in our 100 yard accuracy testing. From the Prone our blaster spit through 3 loads of ammo at sub-MOA. Hornady's 168-gr Match BTHP ran away with our testing shooting (2) .31" sized groups, with an average .51" (.48 MOA). Barnes' 175-gr BTHP Match was our next best load with a best .69" group and an average of .80" (.76 MOA). It was a photo finish for 2nd and 3rd place as our Federal Premium 185-Gr MatchKing Load shot 2 identical groupings to the Barnes, but our "worst" group was slightly bigger than the former bringing the average .82" (.78 MOA).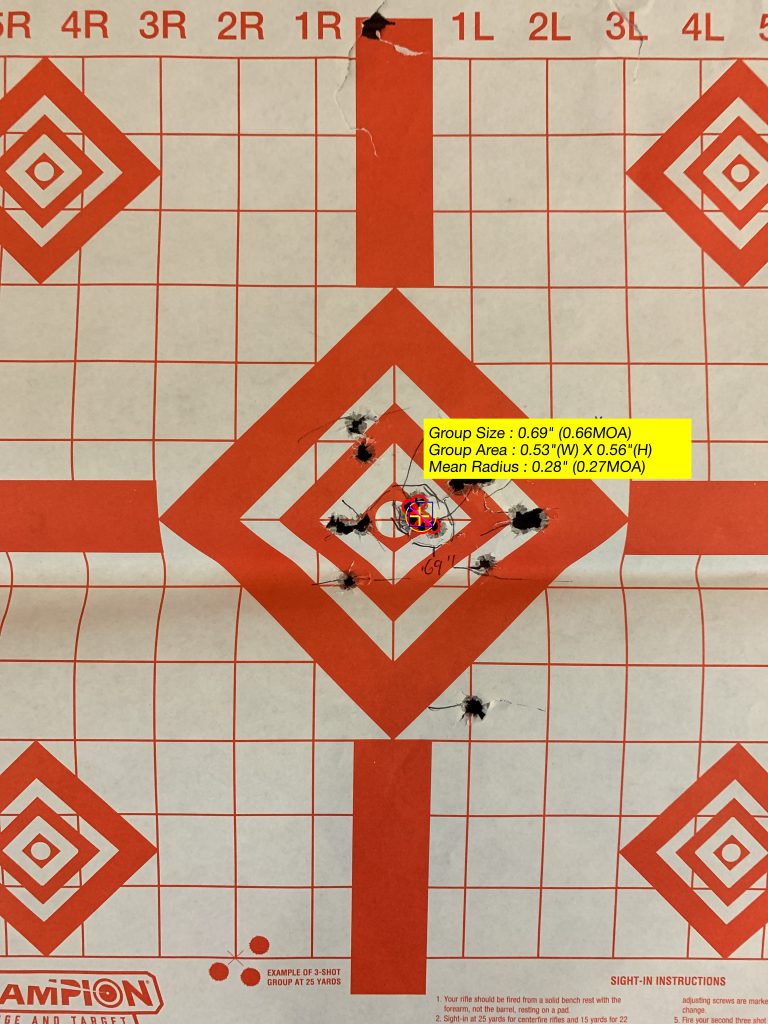 In our testing the Hornady was on a different level from it's competition, we knew the barrel's 1:10 twist rate found it's best accuracy from a 168-gr HP bullet, but really likes Hornady with results 3x as tight compared to other 168gr loads we've used.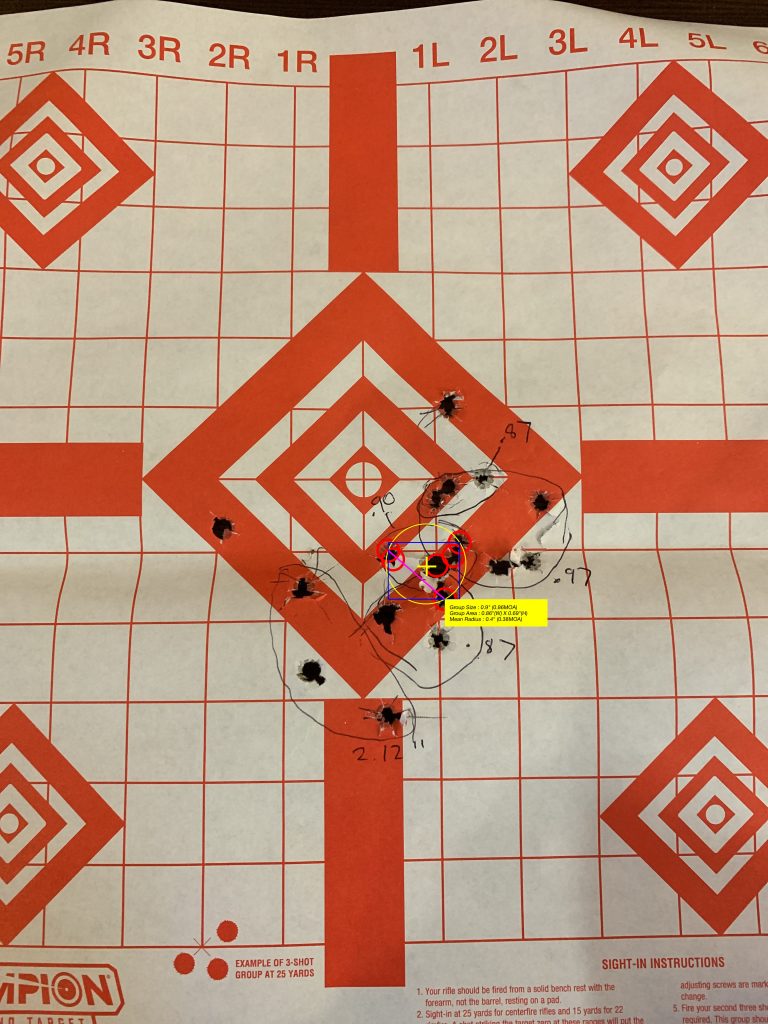 | | | | |
| --- | --- | --- | --- |
| Load | Best | Worst | Average |
| Hornady MATCH 168-gr BTHP | .31" (.29 MOA) | .91" (.86 MOA) | .51" (.48 MOA) |
| Barnes Precision Match 175-gr OTM BT | .69" (.65 MOA) | .90" (.85 MOA) | .80" (.76 MOA) |
| Federal Gold Medal Berger 185-Juggernaut OTM | .69" (.65 MOA) | .95" (.90 MOA) | .82" (.78 MOA) |
Follow Through
After shooting the WW-308 for the first time, we put together a list of "do differently's" for the next outing. We still experienced no buyer's remorse whatsoever, and we were not left with the un-scratch able "tacticool" itch that we as gun owners often feel.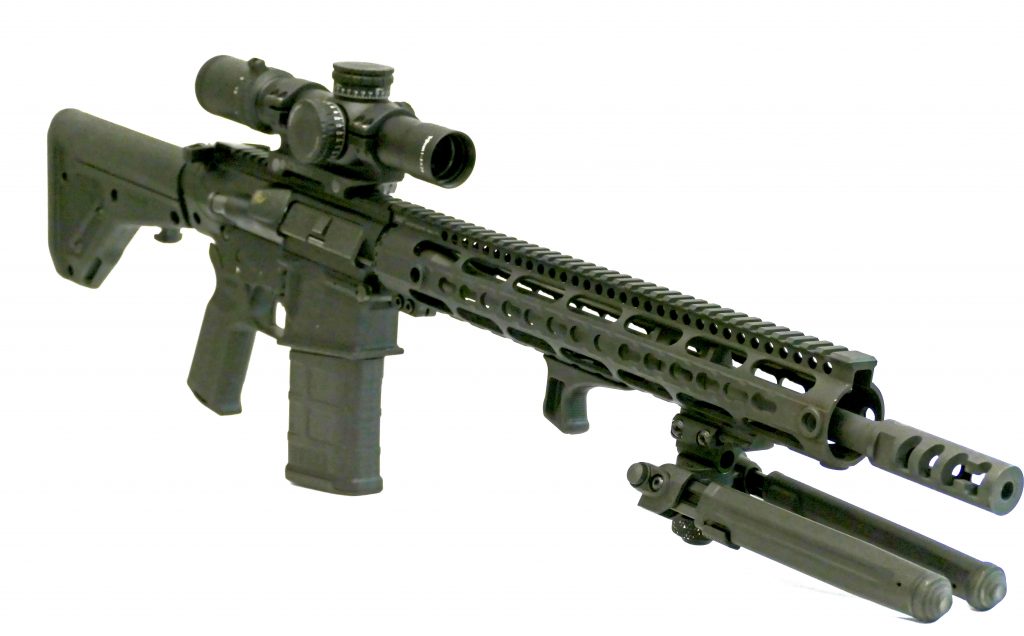 Our rifle was modifyable and going into purchasing it, doing just that was our intention. The WW-308 has lived up to our expectations and we will continue to build upon the rock solid platform. To sum this model of Windhams arsenal in a few words, we would classify it as "The Swiss Army knife of AR10 platforms". The key components of the WW-308 perform well but leave room for improvement.
If you are expecting everything that goes into a $2600 [or more] rifle with WW-308, you will be disappointed and have the buyer's remorse we wrote about. Knowing that a price tag of $1645 will allow you to customize to your personal needs and wants with quality behind the product and a transferable lifetime warrantee you will be very happy with this purchase. We invested $600 in common upgrades to our rifle, making it a $2200 rifle with performance comparable with a $3000 [or more] rifle and were further impressed.
Windham Weaponry is truly an American success story and proof that loyalty in the workforce still exists. When Richard Dyke asked his former employees for his trust (again) to make great quality rifles at an attractive price point, their response was astounding.
Windham Weaponry WW-308 Vital Statistics
| | |
| --- | --- |
| Type | Direct Impingment, Semi – Automatic |
| Caliber | .308/7.62x51mm |
| Receivers | Forged, 7075 T6 Aircraft Aluminum |
| Finish | Hard Coat Anodize |
| Barrel | 16" 1-10RH Twist |
| Weight | 8.45 (w/Magpul fixed stock) |
| Length | 38" (16.5" barrel" |
| Capacity | 20 round P-Mag (included |
| MSRP | $1645 |
| Manufacturer | Windham Weaponry |
THE ACCUPOWER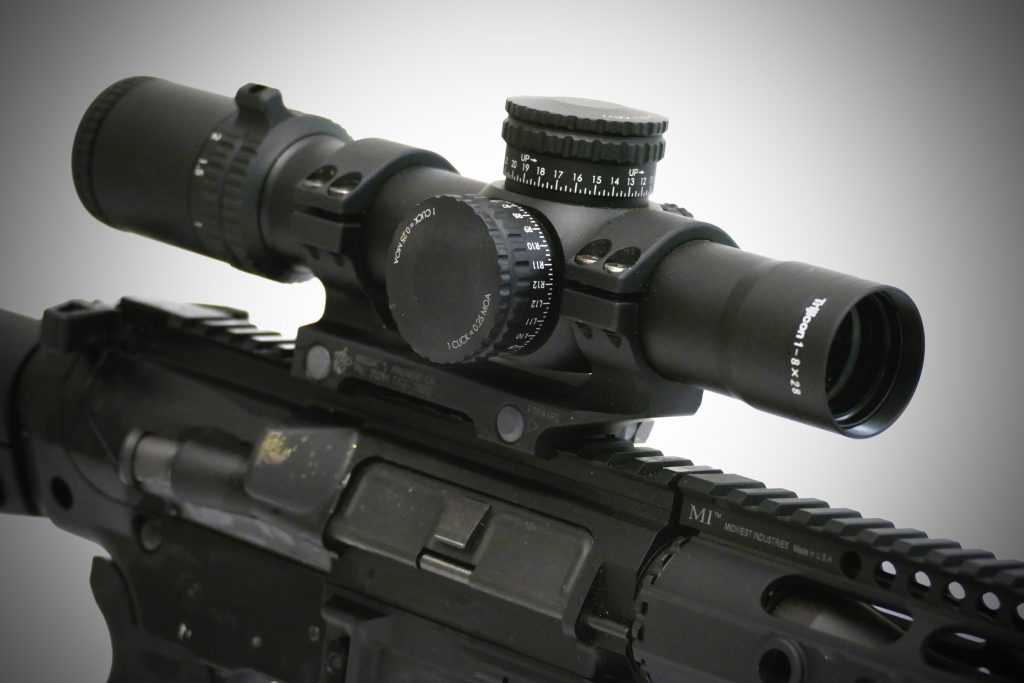 Since we spent $1500 less on our rifle by not going high end, it expanded our budget to buy a high quality optic, let's be real we would have purchased it anyways.
Trijicon introduced the Accupower 1-8 at SHOT 2017 with well reception and I can see why (pardon the pun), there couldn't be a more versatile optic with this accuracy. We knew our rifle would best serve as a "general purpose" carbine for close range engagements but if we needed to reach out and touch something it would rise to the occasion.
The 1x power is excellent for short distance engagement as a reflex sight, while at full power we were able to ring steel out to 1000 yards. First of its kind, the first focal plane enables fast target acquisition, ideal for competitive shooting where hundreths of a second matter and for security forces when lives are on the line. You may also be a range nerd like myself where you don't shoot beyond 200 yards often, a high powered scope isn't appropriate for your application however when seldom opportunity arises to shoot medium-long range this scope gets it done.
The scope is beefier than competing LVPO's, but it's tank stature has a good home on a 308 rifle. AR-308's can abuse optics where they lose zero from the bolt slamming home. Through 500 heavy rounds ours held zero, we'll sacrifice extra ounces for reliability and quality.
Turrets are adjustable in ¼ MOA increments (or .1 MIL) for fine tuning. Once zeroed our favorite feature is the tool-less zero stop to efficiently make adjustments in the field. The 28mm objective lens offered impeccable clarity and brightness, for our 100 yard accuracy testing we shot sub MOA with 3 different loads.
We would be remiss if we didn't mention the short 32 hour battery life but batteries are cheap.
We knew our rifle setup was perfect leading us to believe our results were a testament to the Accupower, the optic will be purchased from Trijicon and will be an essential part of our content in the future.
Solid Stance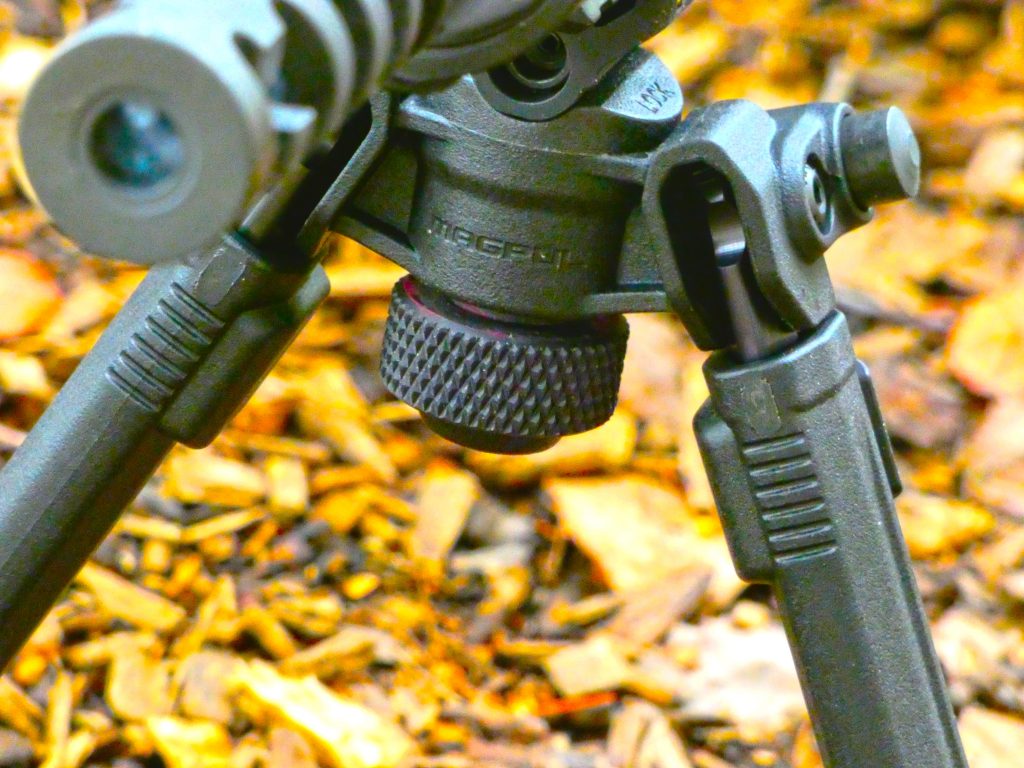 Shooting in the prone and off terrain called for stable forward support in the form of a bipod. We needed one durable enough for .308 while staying within a budget. Until Magpul threw their hat in the ring, selecting a bipod for a large caliber rifle that was affordable and durable mixed like oil and water.
Magpul created a game changer, filling a void in the market for a rugged bipod and a $100 street price offers affordability for everyone. Parts are made from stainless steel for the internals and same hard polymer used in their stocks and P-Mags for the exterior, it's a tank. Using the weight of the rifle for counterbalance, the bipod is a very primal(yet innovative) design scrapping the use of spring tension, using it's structure for fast deployment and reducing the risk of malfunction with minimal parts. As a Marine you know a when a company was founded by our brothers when they make a device that keeps it simple stupid yet so genius, you wonder why no one else did it.
About the Author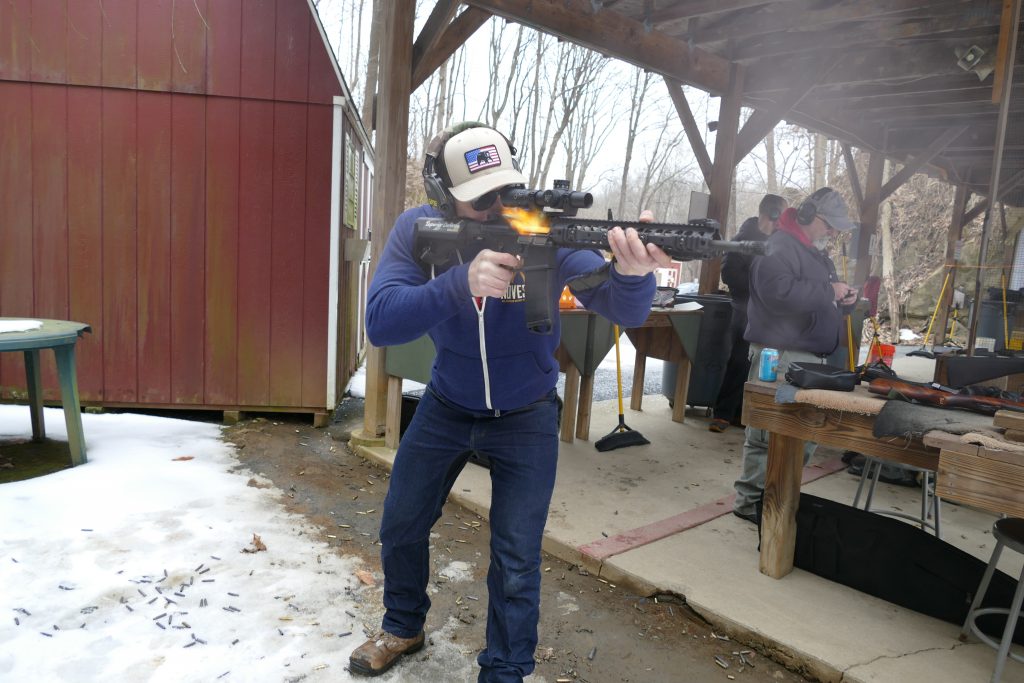 John Rufino is a freelance writer and runs his own firearms lifestyle platform @rufio.weaponworks on instagram. He is a veteran of the United States Marine Corps serving 6 years as an engineer. With the Marine Corps being his introductory
foundation to firearms, John brings 4 years of recreational shooting experience with a focus on practicality perspective content with a carbine and pistol. When not on the range, John is at the gym training for his next CrossFit or Weightlifting competition.